Nottinghamshire's Leading Hog Roast Specialists
Are you bored with the same predictable event catering options and seeking something fresh and different for your event? You should never have to settle for second best when to comes to the food for your event and if you hire the Hog Roast Nottingham team to do the catering, you won't have to. We are the most prominent hog roast caterers around, and we offer our expertly prepared signature dish alongside a whole host of creative catering options that are suitable for any budget or occasion. We will ensure that our party catering package is perfect in every way for you, and we are able to offer you a bespoke menu that will be a big hit with your guests.
The Best Hog Roast Catering Experience in Nottinghamshire

You won't find soggy sandwiches or re-heated dishes on the table if the Hog Roast Nottingham team are at the helm. We provide generous portions of hot, hearty, fresh food that is all professionally prepared at the venue in full view of our diners. A perfectly cooked hog roast takes several hours to achieve, and it is a cooking process that we have honed over the years and really made our own. We are proud to offer the finest hog roasts in the area, prepared, carved and served by a specialist catering team who are incredibly passionate about showcasing our signature dish.
We are capable of providing freshly cooked hog roasts for events of all sizes in Nottinghamshire. No matter how many guests we are catering for, we always ensure that the last plate of food looks and tastes just as good as the first. Our catering style and ability to make our food on-site makes us the ideal catering company for large events and outdoor gatherings. Our serving table is always a popular place to be at any event we are catering for, but regardless of how many diners are eager to try our superior hog roasts on the day, our efficient and friendly team make sure that no one is kept waiting for too long. Even though we always cook our food on-site, we are always very punctual and never serve our food late. We will follow the plan to the letter on the day and organise when and how we serve the food in-line with your requirements.
Expert Event Catering for Any Occasion
Hog Roast Nottingham's event catering services extend far beyond large outdoor events. We also offer appealing event catering packages for smaller parties and refined menus for special occasions, wedding receptions and corporate events. Your menu can be as complex and varied as you like, as we have an abundance of diverse side dishes to choose from, as well as 3-course meal options to suit all tastes and diets. Here at Hog Roast Nottingham, we put just as much time and effort into preparing the rest of our dishes, as it is important to us that all of our food is just as well-received and high in quality as our hog roasts.
Hog Roast Machine Hire Options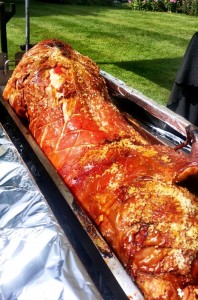 Doing your own hog roast is an exciting yet steel-free self-catering option that both you and your guests will love. With our help, it won't be as costly or as complicated as you may think either. In addition to providing you with professional catering services, we also have a range of hog roast machines available for hire, with an option to suit all budgets, event sizes and levels of event catering experience. We will determine which is the best machine to meet your needs and supply everything you need to do your own hog roast, including the hog if you need us to. We will also bring the machine to your venue, talk you through how to operate it and collect it again after your event. We have lots more information about our hog roast machine hire services on our machine hire page, or you can contact us here at Hog Roast Nottingham to find out more!
Get a Free Quote
If you would love to go ahead and book Hog Roast Nottingham for your event, simply complete the quick query form on our website to get the ball rolling. Just tell us the type of food you want, and the size of your guest list and we will be happy to give you a provisional free quote for any of our catering services or machine hire options. Alternatively, if you need a bit of help deciding which is the best option for you, our team are always here to help via phone or email. Whether you would prefer to have a chat on the phone or send us an email, we will take all the time your need to talk you through our catering services, decide which catering package would be the most suitable one for your event and help you to choose your perfect menu for your big day!