Nothing is more effective at creating a great ambiance at any event than all of your guests being able to gather around a sleek hog roast machine whilst it slowly cooks a piece of prime pork to succulent perfection. If you are seeking a show stopping self-catering option that will wow your guests without being too labour-intensive, doing your own hog roast is definitely the way to go.
If you are considering this option for your event, but you are worried it may be too expensive or not viable for the size of your party, think again! Here at Hog Roast Edwinstowe, we have a selection of cutting-edge equipment available to hire. With a range of models available that differ in size and function, we are bound to have a hog roast machine for hire that will be perfect for your requirements, your venue and the number of guests that you need to feed.
Industry-leading catering equipment for hire
If you hire a machine from Hog Roast Edwinstowe, you will have at your disposal the most modern and reliable hog roast catering equipment available on the market. We design and manufacture our equipment ourselves in our own UK workshop, drawing upon our vast knowledge and experience gained over years of providing unbeatable hog roast catering services in the Nottinghamshire area. Every component of our hog roast machine is meticulously constructed using the highest-grade stainless steel and designed for an optimum level of usability and durability at all times. You can feel confident that our equipment will never let you down and it is capable performing to a consistently high level in any setting.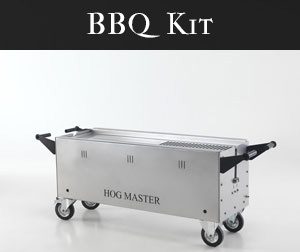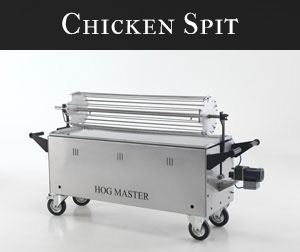 Cost-effective and convenient machine hire options
Hiring a hog roast machine for your party or event offers you an affordable and enjoyable way to feed your guests without you having to spend the entire time focused on the cooking. We have models available for hire to suit all levels of catering experience, meaning that you don't necessarily have to be a professional caterer to be able to operate one of our machines safely and effectively. We want you to get the most out of the machine you hire, and we will listen to your requirements and any concerns you have very carefully before deciding on the right machine for your needs and level of catering confidence.
When you hire a machine from us, our team will make the entire process as easy and straightforward as possible for you. We are able to supply all of the elements required to cook your own hog, including gas canisters and some high-quality free-range pork if required. To save you time and hassle, we will deliver the machine to your premises at a time that suits you and give you an in-depth tutorial that covers everything you need to know. In the unlikely event that you do have any issues whilst you are using it, we are always available on the phone to help. We will also collect the machine after you have finished with it and we won't even ask you to clean it prior to collection either. Hiring a hog roast machine from us couldn't be easier, and we're sure your guests will be very impressed with the results too!
Try before you buy option for professional caterers
Every mobile event caterer appreciates the importance of keeping the equipment you need to transport to a minimum and maintaining a streamlined set up. One of our hog roast machines will easily help you to achieve this. If you are a professional caterer looking for a new multifunctional piece of equipment that is capable of aiding you to prepare a high volume of food in a wide range of different settings, one of our hog roast machines is the ideal solution. As they are gas powered, they don't require any on-site power supplies to be able to operate them. Our different models also come with a range of extra features and attachments, enabling you to prepare other types of food, such as baked potatoes and vegetable skewers as the same time as the meat is cooking, or if you require a machine that can produce an incredibly high amount of food in one go, we have larger models available that can cook two whole hogs (or any other large joint of meat) simultaneously.
Many of our clients who hire a hog roast machine from us have such a positive experience that they then decide to purchase one for themselves. Of course, we understand that investing in a new piece of catering equipment is a big step, which is why we give you the option of hiring one to try it out for yourself before taking the plunge.
Whether you are an amateur chef or a professional caterer, we will have a hog roast machine for hire that is perfect for your needs, so please don't hesitate to get in touch with us here at Hog Roast Edwinstowe to discuss your machine hire requirements!