Here at Hog Roast Mansfield we like to ensure we are open to all. Our policy is to keep things friendly and approachable so that our customers feel comfortable and valued always. We find that by keeping things operating more like an open family like this our service can flourish much more and the day of your event ends up also being far more enjoyable for everyone. We want to establish strong connections to our customers so that they have no hesitancy in coming back to Hog Roast Mansfield for more, and with stronger connections we'll develop better, personalised service for you too.
Of course, this relationship begins with the first conversation. Our team here are always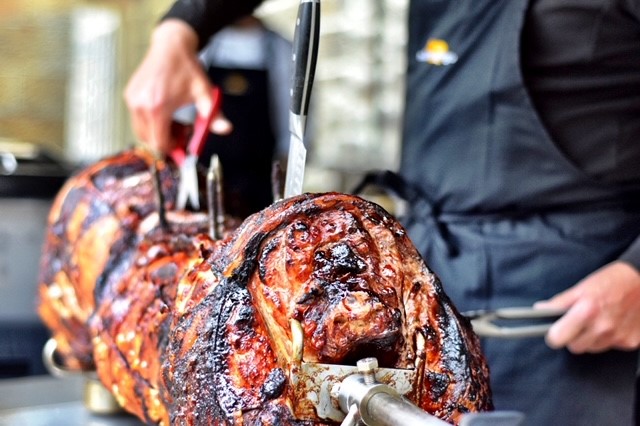 ready to talk event dining and fine foods – we're only a call, message online or email away! You'll find our phone number and query forms openly available and easily accessible across all our channels so that you never need to look far to start talking to us today. And we know that in this 21st century of social media many are a but more intimidated by a phone call, but don't be! Our team are so incredibly friendly and do their utmost to keep you feeling comfortable and well cared for (and they're just great chatters to!). But if you're just looking for a quick and short answer we're open across all the major social media channels. Just start a chat with us on Facebook, Twitter, or Instagram and we'll get back to you sharp!
Hog Roast Mansfield are experts in event catering, so we know all the little details and minutiae required to pull off a successful event. When you get in touch we'll try to establish exactly what you're looking for in your event and the style and aesthetic you are hoping for. We can tailor our foods, menus and serving style to match your event no problem. It's always flexible and easy with Hog Roast TOWN; no niggling headaches and stresses when you call us – pain free and seamless service is how we do it here.
No undertaking is too much for Hog Roast Mansfield. Just tell us the location, approximate guest list size, event theme and any other details you want, and we'll start recommending and figuring how we can best serve you. With one call we can get you a quick and free cost quote that we can then move up or down depending on how you're feeling or what more or less you might want. It's excellent service made simple.
Feel free to check through our sites and socials to garner idea of the type of packages we can set you up with, but know that nothing is set in stone with Hog Roast Mansfield and we'll always be more than happy to tweak and tailor all parts of our service special to you. No event is the same, so we make sure to keep thing so open and honest.
Don't wait around – call, text, email, DM, or message the site now and Hog Roast Mansfield will be with you in no time.