Whether you would prefer to host your event in an urban setting or you would love a rustic retreat in the countryside that surrounds Bingham, getting the right venue is only half the battle when it comes to creating a memorable occasion for your guests. You also need a menu that is as suitable and impressive as the setting, which isn't always an easy thing to achieve within your budget, especially if you have guests with wide-ranging tastes or dietary requirements. This is where the Hog Roast Bingham team come into our own. We specialise in providing the best hog roasts in the region and unforgettable dining experiences for all manner of occasions in Bingham.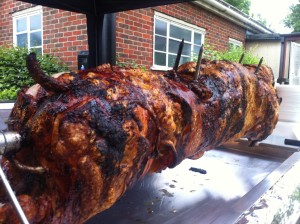 We have perfected the spit roasting method and elevated the hog roast to a new culinary level by merging our succulent pork with a varied assortment of contemporary menu options and bespoke catering packages for wedding receptions, private parties, corporate entertaining and public events.
A Unique Hog Roast Dining Experience For Your Event with Hog Roast Bingham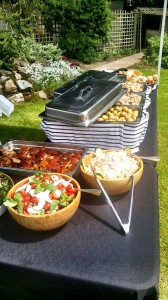 Whatever the occasion, the Hog Roast Bingham team will be able to create the perfect menu for your event. We will take all of your requirements on board and provide as many varied side dishes and salads as you require. We are also equipped to provide alternative meats, themed menus, festive feasts, vegetarian and vegan dishes and chic 3 course meals.
We will make all of the items on chosen your menu from scratch at your venue prior to your event, utilising only the freshest ingredients, the best free-range meat and specially selected locally sourced produce. We will serve your food in full view of your guests and present it in any way you choose. If you would prefer a sit-down meal rather than a buffet, we can also supply our own waiting team to provide full table service, and for extra-special occasions, front of house staff to greet your guests with a canape and drinks welcome reception.
If you would love to find out more about Hog Roast Bingham's hog roast catering services, please give us a call today to speak with a member of our team!