Blidworth is a Nottinghamshire village with a long history and links to the infamous local legend of Robin Hood. It is also a place with a strong sense of community spirit, which is exemplified by the village's football teams and brass band. Getting the community together is always a great thing to do and if you are planning an event in the Blidworth area, the Hog Roast Blidworth team are here to assist you by offering you some unbeatable event catering for a very reasonable cost.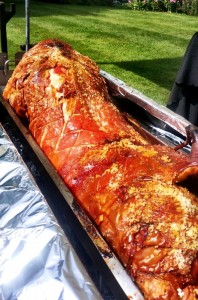 Sharing a hog roast with family, friends, neighbours or colleagues is the ultimate sociable dining experience and is it one that will stay in people's memories. If you want the best hog roast catering for your event, we are the local hog roast specialists who are equipped to provide it. Our ethically reared pork is always selected from free-range UK suppliers and is cooked to perfection over the course of several hours by our talented hog roast chefs. Cooking our meat on site further adds to the interactive dining experience for any occasion by providing a fantastic focal point for your guests to gather around.
Creative Hog Roast Catering For Any Occasion in Blidworth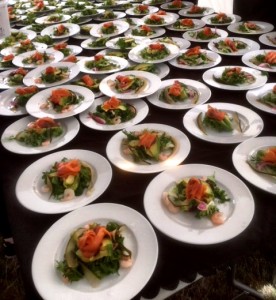 Here at Hog Roast Blidworth, we don't just excel at providing hog roasts. We are capable of preparing a vast assortment of other dishes to an excellent standard too and we offer catering packages that are ideal for any occasion, including weddings, birthdays, anniversaries, christenings, office parties and festive celebrations as well as local community events.
Our inventive menus are regularly updated with new dishes, ensuring that we make the most out of the locally sourced produce and seasonal ingredients that goes into all of our food. We always make all of our dishes from scratch on-site whilst the hog is cooking and we are able to serve up a beautiful, freshly made feast for any number of people.
If you want to enjoy hog roast catering at its very best, whilst also being able to choose from a wide selection of freshly made dishes that are suitable for all tastes and diets, please drop us a line here as at Hog Roast Blidworth to let us know your event catering requirements!