If you want mobile catering that is a cut above and offers your guests something different from the standard fare, a hog roast feast is definitely the answer! It is a delicious outdoor dining option that is also great value for money, and it can be a show stopping dish for any occasion when it is prepared by a team of hog roast specialists.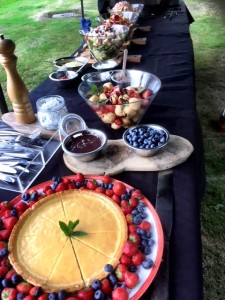 Here at Hog Roast Ravenshead, we are the leading hog roast company in the Nottinghamshire area, and we are able supply top-quality event catering for just about any occasion taking place in the region. We can travel to any sort of location and cater in any type of outdoor venue, as well as lots of indoor settings too. We offer totally flexible catering services, and we can design a bespoke catering package for your event that will be a big hit with all of your guests. We offer complete catering solutions for weddings, private parties of any size, corporate entertaining and public events.
Fantastic Fresh Food For Any Occasion with Hog Roast Ravenshead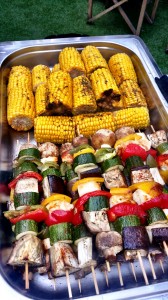 We are able to cater for such a broad array of events in and around Ravenshead because we offer a wide selection of menu options in addition to our beautiful hog roasts. Our vast repertoire consists of alternative meats, barbecue dishes, vegetarian and vegan options, 3-course meals, canapés, themed menus and more. Whatever you want for your day, Hog Roast Ravenhead's food and service will more than live up to your expectations.
It doesn't matter whether we are catering for a dozen people at an intimate family celebration or several hundred for a large-scale event, we will cook our meat and prepare all of our other dishes on-site prior to the event. Our multitasking catering team are able to prepare a high volume of food to a consistently high standard, as well as more complex fine dining menus from scratch on the day.
If you want to sample Nottinghamshire's finest hog roasts and be the recipient of attentive, tailored service and a varied menu for your event, the Hog Roast Ravenshead team are the local catering company who you can depend on to give you everything you want for your day and provide a dining experience that all of your guests will remember.