At Hog Roast Arnold, our commitment to delivering exceptional experiences to our customers and clients is at the heart of everything we do. Our team consistently goes the extra mile to ensure that every event we cater for is a resounding success. So, when we receive heartfelt feedback, it reminds us why we're so passionate about what we do and inspires us to keep up the good work.
Just yesterday, we had the pleasure of receiving a heart warming email from Eloise, who had entrusted us with catering for her daughter's christening celebration over the weekend. Her kind words were a testament to the dedication of our team and the joy we bring to our clients.
Eloise couldn't thank Hog Roast Arnold enough for the role we played in making her daughter's special day a success. Thanks to our catering managers, Darren and Claire, she didn't have to worry or stress about a single thing on the day of or leading up to the event. In her words, timekeeping, in particular, played a crucial role in ensuring the smooth flow of the event. The feast was served promptly, preventing any unnecessary hunger-induced discomfort among the guests.
Our menu choice for this christening celebration was our beloved Gourmet BBQ feast, carefully curated to cater to all age groups. The variety of dishes ensured that everyone in attendance would find something to savour and enjoy.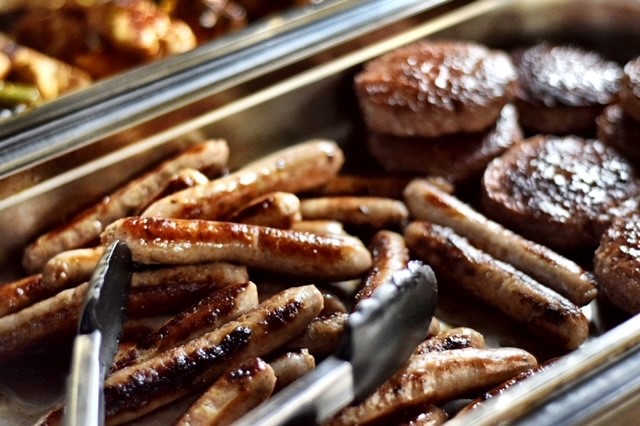 Guests couldn't stop raving about the delicious food we served. The British beef burgers, oozing with melting cheese, quickly became a crowd favourite – they were simply irresistible! And even those who typically prefer meat couldn't resist trying our BBQ-pulled jackfruit buns. The tender jackfruit, marinated to perfection, captured the essence of BBQ flavours, making them a delightful choice for everyone, including the meat enthusiasts among us.
The success of Eloise's daughter's christening celebration fills us with immense pride and joy. Knowing that our catering helped create beautiful memories and allowed Eloise to fully enjoy the day with her loved ones is the ultimate reward for our hard work and dedication.
At Hog Roast Arnold, we're more than just caterers; we're memory-makers; and Eloise's feedback reminds us of the importance of what we do.
Thank you, Eloise, for choosing us to be a part of your special day, and thank you to all our wonderful clients for allowing us to do what we love most. We look forward to creating many more unforgettable moments in the future.