When it comes to turning wedding dreams into reality in Nottinghamshire, no one orchestrates these celebrations quite like Hog Roast Bulcote. With seasoned catering managers Darren and Claire at the helm, armed with years of experience in handling high-pressure events, the commitment to creating unforgettable experiences for our customers knows no bounds. Recently, this dynamic duo cast their culinary spell, leaving an indelible mark on Cole and Gemma's big day.
From the initial stages of planning, Darren and Claire were by Cole and Gemma's side, offering unwavering support and guidance. Their journey led them to the iconic Warren Farmhouse, a proud partner of Hog Roast Bulcote, and the chosen canvas for Cole and Gemma's love story. Nestled on the edge of Sherwood Forest, this historic venue, surrounded by Nottinghamshire's breath taking views, provided the perfect backdrop for the couple's rustic-themed celebration.
The wedding feast unfolded in a romantically adorned marquee, where wooden tables and matching chairs, fairy lights, and fur throws created an ambience that whispered of love and enchantment. Aligning seamlessly with the setting, Hog Roast Bulcote unveiled the Alfresco Wedding Menu—a gastronomic masterpiece that left 140 guests in awe.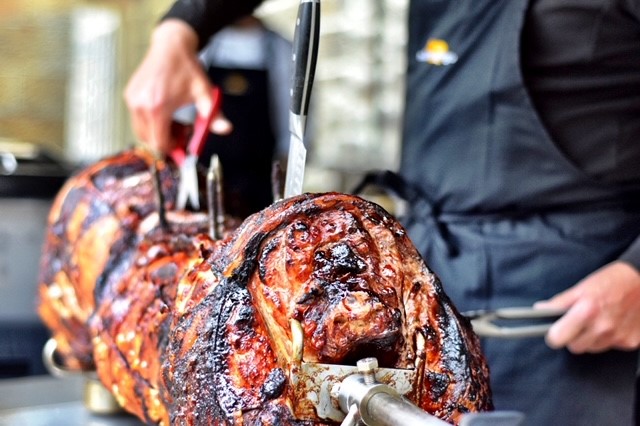 Each table became a canvas for a lavish sharing platter featuring Italian deli meats, cheeses, artisan breads, and dressings—a blend of flavours to whet appetites. The main course, a whole-roasted free-range pig with stuffing, applesauce, and crackling, followed shortly afterwards, accompanied by gluten-free rolls, wraps, and an array of condiments. Catering to diverse palates, Hog Roast Bulcote presented BBQ-pulled jackfruit rolls with crunchy 'slaw as a suitable vegan option.
The air was filled with laughter, love, and the sizzling aroma of a perfectly executed wedding feast. Cole and Gemma's celebration became a testament to the artistry of Hog Roast Bulcote, where every detail is meticulously crafted to transform dreams into reality.
As the sun set over Sherwood Forest, Hog Roast Bulcote not only served a sublime meal, but crafted an experience that became an integral part of Cole and Gemma's love story. We are so pleased to have been part of this incredible day and would like to wish the happy couple a lifetime of happiness!