Corporate recruitment days are perfect for hiring a large intake of staff in one efficient sweep. The day may include a variety of interviews and tasks, as well as a variety of training exercises and team-building events. Whatever your recruitment day may include, Hog Roast Manton has plenty of menus that are perfect for the occasion!
Helen runs an outdoor education centre and employs a dedicated team of 40 staff members. Earlier this summer, the centre was refurbished and extended, adding several new facilities and almost doubling the number of activities that can be provided. To meet the increase in demand, Helen needed to hire a new group of staff to operate the facilities and to keep everything running as smoothly as it used to. To help the recruitment process to run smoothly, Helen hosted a recruitment and training day for applicants to take part in, which was excellent for getting the job done efficiently. Alongside the interviews and tasks, Hog Roast Manton was hired to cater for the occasion to show the applicants what they can look forward to if they get the role and to keep everyone motivated and ready to work.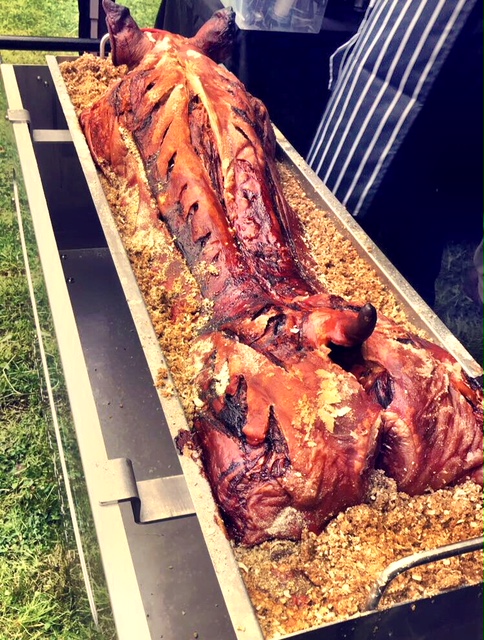 On the day of the event, the Hog Roast Manton team set up our catering station on the land next to the centre and began to get to work preparing the menu. We began by slow-roasting the hog and ensuring that it was packed full of natural juices and flavours before it was expertly carved by our chef. Once ready, the sliced pork was served in fresh bread rolls and accompanied by sage and onion stuffing, homemade applesauce, and crispy crackling. For meat-free guests, we also served BBQ pulled jackfruit, which is a great alternative to pulled pork. The rolls were great for enjoying during the busy day and went down a success with the current and future staff.
Are you looking for a caterer for an upcoming corporate event? If so, get in touch with Hog Roast Manton today to find out what we can do for you. We hope to hear from you soon!